Time Tracking and Logging from Dashboard for Jira
Visualize and input Worklog from your Dashboard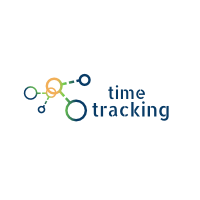 The Time Tracking and Logging Gadget can be added to your Jira dashboard, and then allows you to view and input worklog (time) records directly from the dashboard.
You see the work log on the filtered issues, and you can click on choosen date for issues you have rights to work on, in order to input your work log.
This short animation can show you the power of this gadget: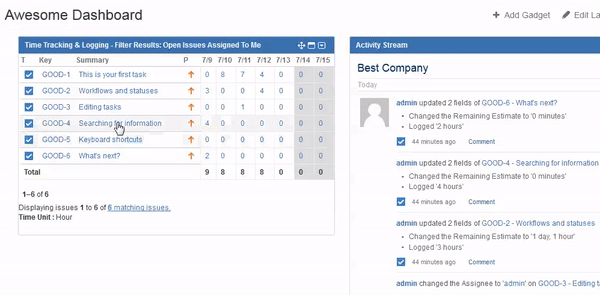 Visualisation
Time Tracking and Logging Gadget is a great way to visualize (and edit) your timesheet from the Dashboard.
Columns are configurable so all your revelent information for you is displayed along with the timesheet.
A worklog is clickable if have right to entry work log on this issue.
Choose a filter, the columns you want to display, and many other display options and enjoy your timesheet configuration from your dashboard.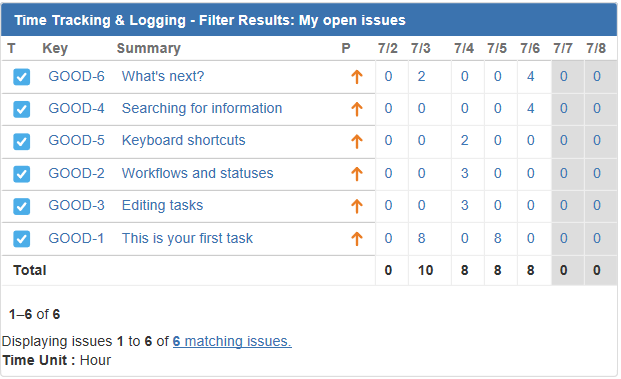 Edition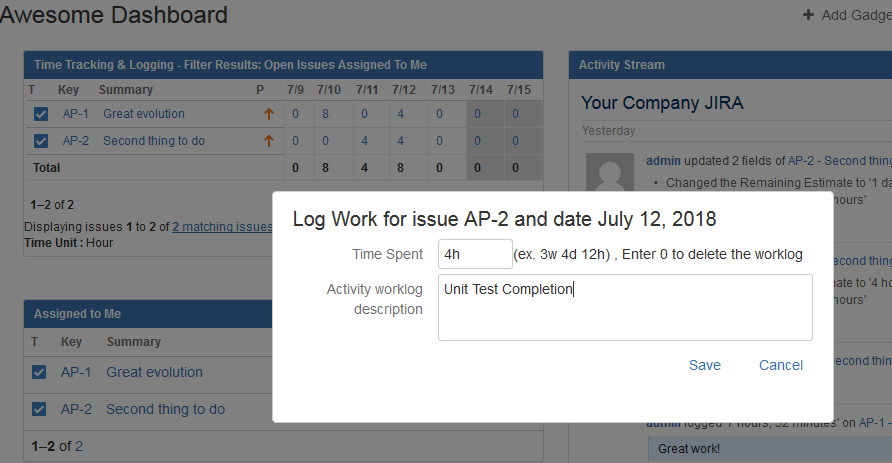 Being able to input worklog directly from your filtered issues displayed in your dashboard is a great time saver. You will not have to navigate in each issue to log your work!
You can delete woklog by stting the time to "0".
You can add as many Time tracking and Logging from Dashboard gadget as you want on your dashboard, if you want to split by different filters (by project for example).
Each instance of the gadget is independant.
Configuration
Here is the screenshot of the option panel: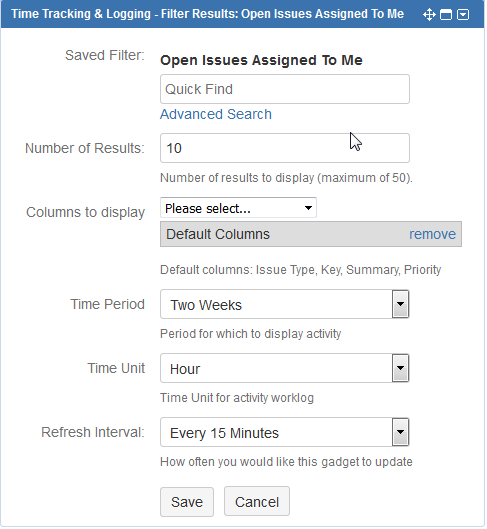 You first choose a filter to see only the issues you want to see/update the workloads (ex: My open issues), and you'll be able select a day and input work time and comment (description).
The gadget is then refreshed to show you all workloads for the issues from your filter (week or two week views).
Pro Tip: Take care of the sort order the filter you select is based on. A filter sorted by update date will make your timesheet to reorder each time you log time on one of it's issues.
A prefered filter order is to filter by Key for example.
Many options available:
Time in days or hours
One (current week) or Two weeks view (current week and last week)
Refresh interval (the gadget will refresh himself) at this specified interval to include new worklog set on issues. It will refresh automatically when a work log is set through the gadget.
Date format according to your configuration of Jira
Full Video of Gadget from installation on your dashboard to usage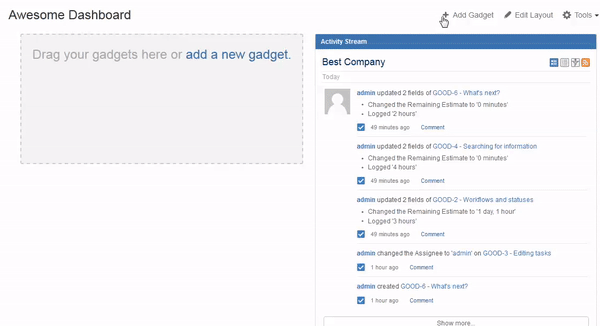 Contact, comments and support
For any comment, support request or just to say hi, write us at:


Vendor Privacy Policy
The Time Tracking and Logging from Dashboard Gadget for Jira is specifically designed to protect your personal and corporate information by ensuring that the plugin collects no data, analytics or business intelligence.
The gadget transmits no data, metadata, or documents from your server, nor from any client browser it runs on, to our server, nor to any third party. All data stays on your servers.
Atlassian provides basic technical and billing contact information when the plugin is installed and a license is applied to the plugin. For more informations, please refer to the Atlassian Privacy Policy and Terms of Use.
7.0.0.1 version for Alexander
Here is the link : Timetrackingandlogging 7.0.0.1